An Alumni Reflection – Joseph Puglia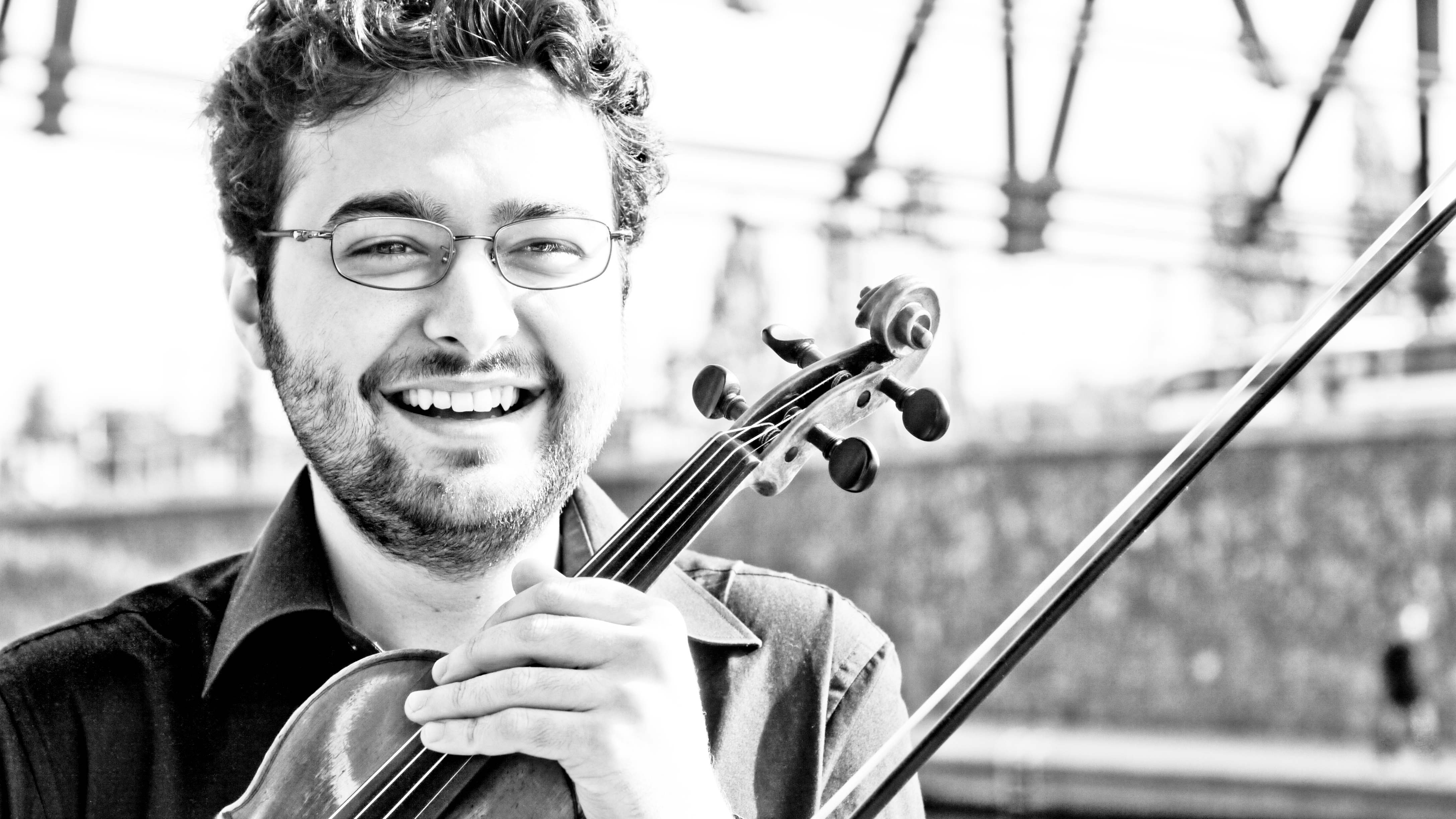 I was very sad to have missed the SFS anniversary concert in Carnegie Hall last June. Not only because it is an honor for any professional musician to have the opportunity to play at Carnegie, but also because SFS has played such an important role in my life. Friendships I formed as a student over 20 years ago still continue to this day, and things I learned from Miss Behrend still find their way into my own practicing, performing, and teaching. More than anything else, Miss Behrend, Miss Keats, Sasha, and SFS gave me my approach to music making. Even after I was accepted as a student at the Juilliard School, I still returned to SFS's Friday program for chamber music and orchestra with Sasha as my coach and conductor. Many students from the Friday program (myself included) went on to become professional musicians, but most did not. However, this did not in the least affect the drive to do one's very best which I felt from everyone in those times. Miss Behrend had a presence and integrity which permeated through the hallways, encouraging us to always ask ourselves what we are looking for in a piece, what makes music so important in our own lives, and how we can bring that to an audience.
I was a student of Miss Behrend for nine years, and even after I went on to study with other teachers I still came back to play for her. Miss Behrend was never concerned with creating "wunderkinds" who could play all of the Paganini caprices and other flashy repertoire from a young age – she once told me that she could have pushed me in that direction, but chose not to. Rather, she was concerned with communication through music. I remember her saying "music is my religion" multiple times. I believe that for her, music was a way that human beings could communicate with each other on one of the most basic levels possible. Her teaching always pointed us in this direction: we could spend entire lessons on one phrase of music, countless repetitions of even the simplest of phrases in order to get the expression just right. I remember one lesson where I played Beethoven's "Spring" sonata. We spent at least twenty minutes on the first bar alone – I played it for her, she would play it back for me demonstrating the turn at the end of the first bar, singing it, describing a beautiful spring scene, and asking me to draw on all of that for inspiration. And she would not let me go on until we were both satisfied with what I could produce.
Miss Behrend asked this level of integrity from all of her students. In my time at SFS I was part of an ensemble called the Sforzati, a group coached by Miss Behrend, and in her own way she would be as caring and demanding for all students in the ensemble, regardless of level. The Sforzati would play at School for Strings fundraisers and other events, but in the true fashion of Miss Behrend's teaching, we would always play so-called "easy" repertoire from Books 3 and 4 even though many of us had already progressed beyond the Suzuki books entirely. Miss Behrend knew that true musicianship came from being able to play the simplest of phrases with maximum expression and purpose.
My chamber music experiences at SFS were also some of the most important in my life. I still remember spending an entire year working on Schubert's cello quintet with Sasha. We worked on the piece in such depth and to such a degree of detail that although I was playing the 1st violin part, I had memorized the 2nd violin part as well! I have not dared to play the piece since – I know that I will be very hard pressed to find an opportunity even as a professional to work on a piece in such detail and to such a level of satisfaction. I still use what I learned from those coachings in my own chamber music playing today.
Since I left SFS I have found other bastions of music-making which have had similar influences on my life. The Kneisel Hall festival was one of these places. At Kneisel, we rehearsed and were coached on one piece every day for seven weeks. If after that time the piece was not up to our own and our coach's high standards, we would perhaps be allowed to perform only one or two movements. Our coaches stressed meaning, character and personality in performances, and not just learning the notes quickly to put the piece together. The Seminar at Prussia Cove in England is another such place. It brings together professional musicians from across the world for three weeks. Everybody learns and rehearses two pieces, but not necessarily with the intention of playing these in a performance. We rehearse, explore, discuss, and experiment in order to delve into the questions of what makes a specific piece of music great. If at the end we have something worth presenting, we will play the piece in a concert. If not, we don't perform.
At Prussia Cove, as at Kneisel and at The School for Strings, the atmosphere leads one to search for what Isaac Stern said was true musicality: the ability to play two consecutive notes with true meaning. This kind of searching, integrity and depth of approach is something I value more than anything else as a musician. It had its roots for me at SFS, and in my time there was shared by all students at the school – regardless of whether or not they had ambitions to become professionals themselves. It is what made SFS a great place and perhaps the most important part of my education.