A Conversation With Alex Croxton, Cello Faculty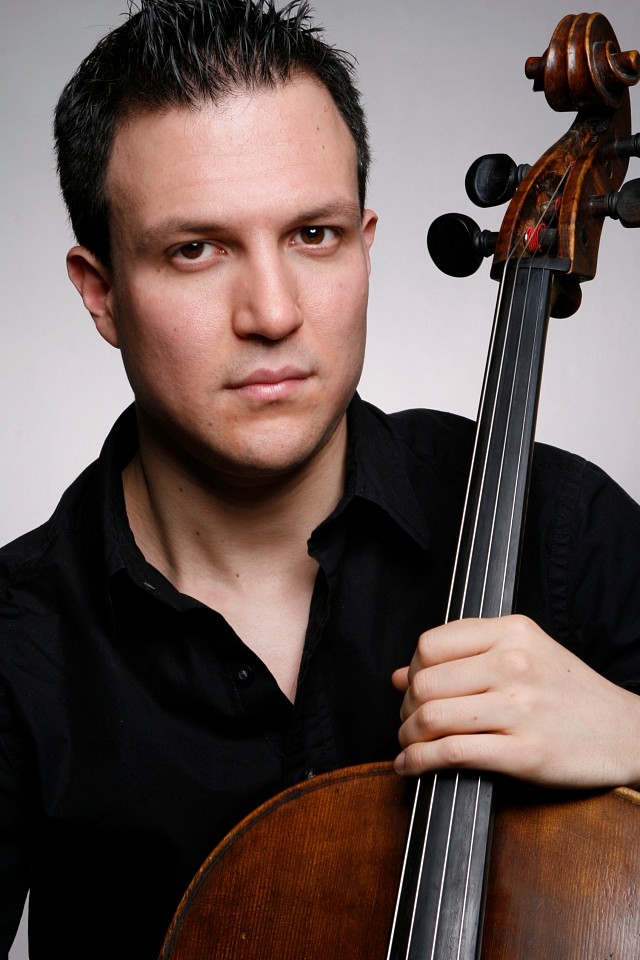 THE INTEGRITY OF THE SCHOOL FOR STRINGS AS AN INSTITUTION – Alex Croxton, Cello Faculty
The great cellist Janos Starker, who passed away a couple of years ago, was a professor at Indiana University. One of the outstanding pedagogues and teachers of the century, Starker insisted that his students at Indiana use all available institutional resources, going beyond the benefits of just the private lessons. That meant you had him as your main teacher, but you could also observe and learn from other teachers at the University. I think that this collaborative aspect is often missing from our American music education. It is still too common for teachers to think that if the student is learning from someone else, he/she is a traitor.
One amazing aspect of The School for Strings is that it's so small that everyone knows everyone. I can talk to my colleagues who have my students in group, theory, chamber or orchestra classes. And not only do my colleagues know them, they have seen my students' development over the years, so I can get feedback and different perspectives. Not only is it good for me, but it's good for the students!
A student has not only their private teacher, he/she also has the institution looking after him/her. But to have the benefits of the institution you have to be part of that institution's curriculum as well. I teach here at The School for Strings, at Mannes, at Special Music School and I have a couple of private students. But even with my private students, I will only teach students who are committed to doing not just the lessons but also ensemble and theory training, and who go on musical development excursions like concerts and I have them talk about music and their experience – because it's a whole culture that we are learning about and exploring. It's not just about how to play technique on an instrument. Learning the instrument is only the "how-to", but the students have to serve the "what-fors". For me that's where being part of an institution comes into play.
It's interesting how this is accepted in other fields. If you're involved in sports and your team is very competitive, you can't just say "I can't come on this or that date" – it doesn't work. And if you are serious and couldn't make those dates, no one would be mad at you, but it would be understood that this activity is not for you and you would need do something else. The School for Strings has very specific requirements: the kids are enrolled in theory, group, chamber and orchestra classes taught by a variety of colleagues. These requirements are geared towards creating a community-oriented musician who has the tools necessary to play chamber music.
What is chamber music?
Chamber music can be as simple as playing with the piano accompanist who comes to your lesson. With more people, chamber music can be playing in a string quartet or a piano trio, or as complex as playing a part in a larger orchestra. Chamber music skills are skills used to react, adjust and support other people.
How have you seen people develop because they have been part of an institution?
As a concrete example, I will bring up one of my first-ever students at The School for Strings. I didn't start him, I started working with him when he was ten or eleven and he stayed at The School for Strings through High School. He was also the principal cellist of the New York Youth Symphony and now he's at Yale. Part of what makes him an amazing person is not just that he is an artistic-level thinker, but also how he interacts with people who are of different abilities and ages, and you wonder where he got those skills. Because when you're in a class at your academic school, everyone's the same age. Of course there are kids with different interests but it's a very specific type of exposure to peers of your own age. Through your study at The School for Strings you will encounter people of different ages and abilities, and these groups can change each year. Cooperating with people of different ages and abilities is what we need to learn to do in the adult world.
I think of The School for Strings as a home. And it's not just because of the ideals but it's also because of the colleagues. At the end of the long teaching day, I can go out to dinner and talk about work because we're all thinking through things. I can't think of many places where I feel comfortable doing stuff like that.
So how do the students benefit from that?
Well they have so many more eyes on them. And I don't mean just cello colleagues but also their pianist – Marina, the conductors, Ben, Sasha and the chamber music and theory teachers. There have been specific cases based on the feedback I get where I end up going in a different direction than where I was going before, because my mind was open to a different possibility through input from other colleagues. As humans we can't see everything. This is why belonging to an institution that supports, challenges and excites the teacher, the student and his/her family is a farther reaching experience than the experience a student would have in only an individual lesson.