Louise Behrend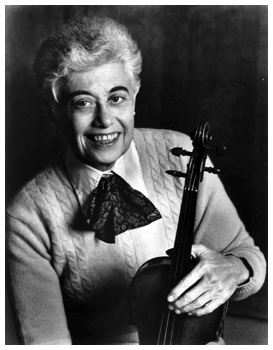 Miss Behrend was one of the pioneer musicians who introduced the educational philosophy and teaching concepts of the violinist Shinichi Suzuki to the United States. In the fall of 1970, she started a small Suzuki Program in Manhattan, a rigorous course for training Suzuki teachers and an oasis for nurturing young children in the art of music. Within three years, that Program had expanded and developed into what is today The School for Strings.
A teacher and musician of great perception, Miss Behrend was widely admired by her colleagues and revered by her students. Her teaching was noted for its emphasis on beauty and variety of tone, serving the expressive and communicative values of music. Painstaking in her attention to detail, she gave her students a thorough grounding in technical control of the instrument, and deep insight into the music's emotional and intellectual qualities. Unusual in the field, she was an effective teacher at all levels, from the three-year-old beginner to the post-graduate professional.
Louise Behrend received her formal music education at The Juilliard School, in the violin studio of Louis Persinger, an esteemed pedagogue whose students included Isaac Stern, Ruggiero Ricci, and Yehudi Menuhin. Soon after finishing her studies, she was invited to join Juilliard's Pre-College Violin and Chamber Music faculties, a tenure that continued for over 60 years.
Her career in performing and teaching spanned over 70 years. Her contributions to music education received both national and international recognition. In 1989, she was honored by the InterSchool Orchestras of New York at Alice Tully Hall, Lincoln Center, as the recipient of their second Annual Achievement Award. In 1992, she became the first teacher whose students won the Grand Prize in both the Pre-College and Pre-Professional Divisions of that year's ASTA National Competition. ASTA honored her in 1994 with its Distinguished Service Award.
In 2003, Miss Behrend was presented with the Betty Allen Award by the Chamber Music Society of Lincoln Center, in recognition of her life-long dedication and distinguished contribution to music education in the area of chamber music. In 2007, she received the Paul Rolland Lifetime Achievement Award from the New England Conservatory.
The Suzuki Association of the Americas recognized Miss Behrend in 1996 with its Distinguished Service Award, and in 2002, the SAA gave special recognition to her contribution to the field of music education with its Creating Learning Community Award. Miss Behrend was the subject of a feature cover story in the Summer 1993 issue of The Suzuki Journal. Written in the form of an interview by Allen Lieb, it recounts the story of her life in her own words.
Born in Washington, D.C., Miss Behrend lived her entire adult life in Manhattan, returning to the Washington area in 2009 when she retired from teaching. She passed away on August 3, 2011, exactly two months shy of her 95th birthday.
Her love of the violin, contagious enthusiasm for music and teaching, and her unshakable belief in every child's potential are at the heart of the legacy she leaves behind at The School for Strings. We are fortunate to inherit her spirit and to be entrusted with her vision, so deeply affected by the work of Dr. Suzuki.