A Conversation with Marina Obukovsky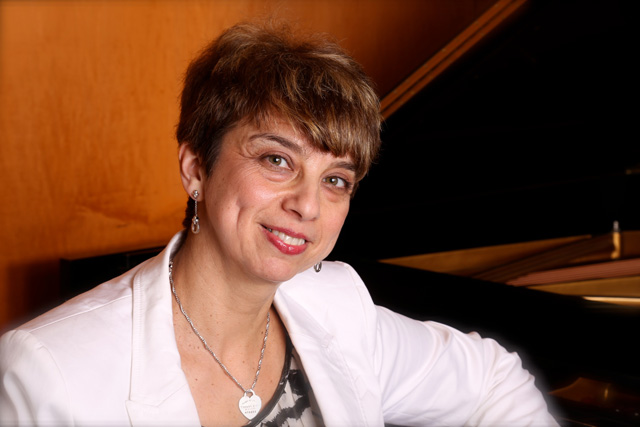 Marina Obukovsky, Piano Department Head
Last spring, you were excited about attending the Bi-Annual Suzuki Conference. Please share with us what makes these conferences so exciting for you.
I have been going to Suzuki Conferences since I became a Suzuki teacher, which is more than 20 years. There are two main reasons why I do not want to miss any of them:
Firstly, and most importantly, I go to learn, to recharge, to re-energize, and to pick up new ideas. A typical conference schedule is packed with stimulating activities: lectures, masterclasses, demonstrations, presentations, concerts. Even after 30+ years of teaching experience, I feel there is still so much to learn, to discover, to improve, and to create. My motto in life: "Those who dare to teach must never cease to learn" R.H. Dann.
Secondly, I attend conferences for social reasons: I reconnect with my dear colleagues from across the United States. The Suzuki world has such an incredible community of caring, giving, creative, spirited teachers. I am so lucky to have them as my music friends: the "Queen" of Suzuki Piano Mary Craig Powell, Fay Adams, Bret Serrin, and many others. These people influence and inspire me in many ways as a human being and as a musician.
Lastly, conferences are a great way to socialize with our very own colleagues from The School for Strings. We usually have a solid showing and have lots of fun together!
A Conference can also be a great learning experience for families and students. In 2010, my student, Noah Krauss, then 12 years old, won a Concerto Competition with a Mozart Concerto in A Major No.12, and had the honor to perform at the Final Concert with the orchestra. Over the years, many other students from across departments have enjoyed participation in master classes, orchestras and many other enrichment programs offered at Conferences.
What were some of your most memorable impressions? 
It was a very interesting conference with a specific theme: A Collaborating Community. That theme perfectly resonated with The School for Strings direction and goals.
We have our Suzuki village at The School for Strings with a community of parents, teachers and students, all deeply intertwined and all working together to shape each student's life and to help him or her to become a cultural, noble human being and to accomplish great things.
In private lessons, teachers bond with parents to coax the ability and musicality out of children. In group classes, children learn to communicate, to show empathy and to offer emotional support to each other. In chamber music, children create something special together: they learn to make musical decisions as an ensemble, they learn to respect individual opinions and to be flexible, and they learn to adjust to each other instantaneously.
As a matter of fact, chamber music played a prominent part at the 2018 Suzuki Conference. Distinguished members of the Montrose Trio were invited as Masterclass Teachers: Jon Kimura Parker (piano), Martin Beaver (violin), Clive Greensmith(cello). All were accomplished, amazing musicians. Their recital in Minnesota Orchestra Hall was spectacular. It was true music making – three musicians who became one musical organism in breathing and phrasing. It was an expression of a real collaboration.
Mr. Parker's Masterclasses were a pure delight, an inspiration and a learning experience. He worked with eight well-prepared students on repertoire ranging from Book 2 Beethoven Sonatina in G to the Grieg Sonata in E minor. Gifted teacher, he was able to reach out to every single student, to give them meaningful insights, delivered with humor and respect, and to achieve desired results. I was delighted that one of the participants was Theo Tsao (6), our own School for Strings student, who was chosen to play his Beethoven Sonatina. Such a big honor! That lesson was exciting and nerve-breaking at the same time, as we all were wondering what college professor might say about that level piece? But it went great, the lesson was engaging, and, afterwards, Theo said that it was one of the best days of his life! Congratulations go to his teacher, Marta Abraham, his parents and to School for Strings.
My favorite quotes from Mr. Parker's Masterclasses:
"Beethoven is a master of architecture. It's like working with Lego blocks" "Articulation is never for your convenience, but should be for musical reasons"
"Connection from note to note is the most important what happens, and more important than the notes"
"It's important to learn to make your own decisions".
And on practicing: "Don't always start at the beginning – pick a hard section and work until its better".
Another highlight of the Conference for me was the Keynote Address by Koen Rens, a Suzuki violin Teacher Trainer. Originally from Belgium, he was one of the first Suzuki students in that country. He projected incredible charisma, professionalism and energy. His speech, "The Power of Connections", was very moving and inspiring. I remember one of the quotes: "Music brought us together and it keeps us together. Music has the power to create special feelings. Maybe the music's unspoken mission really is to bring people together."
A pure musical delight and an unforgettable experience was the production of The Carnival of the Animals by Saint-Saens, performed by 13 young pianists and accompanied by the Hartt School faculty orchestra. This huge project was organized and coordinated by Malgosia Lis from Hartt School. It was clear that the project became a true labor of love for her.
Can you share with us some insights about Parent Education from Teacher Trainer's Sessions? 
Continuing Parent Education is the cornerstone of our success. Suzuki-sensei famously said: "Suzuki training is parent training." Miss Behrend, the Founder of The School for Strings, added: "Parent training is teacher training." We are training parents to be at-home music teachers! Sasha always emphasizes that The School for Strings is a school for parents first.
Presentations by Teacher Trainers from North and South Americas revealed some common areas of concern: the need to strengthen parent education, the difficulty of teaching over-scheduled children, dilemmas presented by uncooperative parenting styles, etc. Presenters also emphasized the importance of educating parents before children begin their lessons. As a famous Suzuki pedagogue, Jean Ludke, once said: "Parents need a year of training before they start their child on an instrument."
As teachers, we must try to make a difference in our students' lives. One highly respected Teacher Trainer said at the Conference: "If I am not being intrusive, I am not going to make a difference." She was telling the story about one of her young students who was misbehaving at the lesson, jumping on a sofa. Parent, trying to be nice to the child, did not stop this inappropriate behavior, but, on the contrary, played along. The teacher had to interfere and to explain to the parent that he is not the playmate, but the role model for his child. As much as we desire to nurture children, it is important to remember the famous quote by Bill Starr: "Joy and discipline go hand in hand."
As a Suzuki teacher, I place enormous amount of work on parents' shoulders. After all, they are the key to their child's success! Suzuki education affords parents a unique opportunity to decipher their children's learning styles and to take an active role in shaping how their children learn. They are students in this journey as well as their children and it is my job to help them in the best possible way. Because I ask so much and they do so much, I always make sure they feel valued and appreciated! We work hard together to create a successful and happy young learner.
Ours is the time defined by social media and technology. It is more and more common for children to grow up in the environment of reduced human interaction. Learning to play a musical instrument is the exact opposite. It comes with a lot of human interaction, love, nurture and direction.
As our students grow up, we hope that music becomes a source of pleasure for them and adds meaningful depth to their lives.
I would like to finish with my favorite quote by Plato: "Music gives a soul to the universe, wings to the mind, flight to the Imagination and life to everything".